Terror Squad
by Richard Sapir and Warren Murphy
His name was Remo, and he did not feel very special.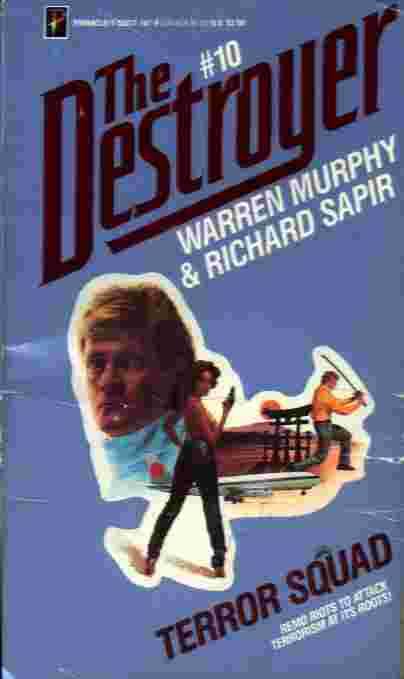 Radical Shriek
Bloody bombings in Britain! Vicious violence in Venezuela! One single maniacal madman is behind the ever-spreading rash of global terrorism--and the governments of the three major world powers are just itching to get their hands on him! But only the top-secret U.S. agency CURE has the cure: Remo Williams, the Destroyer!
The mysterious radical ringleader might be the only mortal capable of besting Master Chiun's human killing machine hand-to-hand. But to save the world from chaos, Remo swears to take the assassin to the carpet before you can say "Hi Jack!"

Review: Ignore the crummy cover and pretend this is an early edition. This was my first Remo book! I don't even know how I got it, it was just stuck on a shelf in my apartment. I was bored one rainy Sunday afternoon and pulled it down. After I finished it I said, "Wow! What a cool book. It says #10...I wonder if I can find the others?" On that day was born an obsession.
As you may have guessed, I love this book. Of the first ten, only Chinese Puzzle comes closer to capturing the spirit of the series than this novel. Plus, Nuihc is back for revenge! I believe this novel was very important to the series, it really started building the legends of Sinanju and turning the series from a Bond-style series to one filled with magic and myths. If we hadn't had the battle in the place of dead animals, would we have ever had Kali, Mars, or even Shiva?
I give Terror Squad a perfect score of
.