Brain Drain
by Richard Sapir and Warren Murphy
His name was Remo and they wanted him to show his press pass.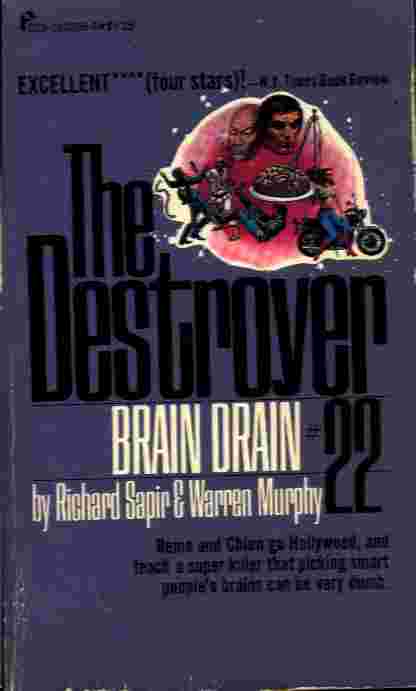 A Creativity Gap?
Someone or something is killing artists, poets, composers, and authors. They are being horribly murdered and mutilated. The police are totally baffled.
A maniac is on the loose, and he has some warped reason for preying on these unsuspecting artists. The demented killer, in his gruesome pattern, not only murders his victims, but opens their skulls to remove their brains!
Remo and Chiun get into the act when CURE's director, Dr. Smith, is nearly killed when a piece of contemporary artwork explodes in a public park. Smith's injuries lead to a wild confrontation with a madman who is convinced he can control creativity and discover the very secrets of creative thought. By collecting brains.
The trail quickly leads to Hollywood, a center of creativity and communication. And, as they say, all you need is a good agent.
This agent turns out to be the sexiest and most powerful agent in town...and with brains yet.
Not even Hollywood's most brilliant storytellers could imagine what happens next. But Remo does. And Chiun figures it's a way to straighten out daytime television, too.

Review: The one and only Mr. Gordons returns in this novel for his second appearance. Brain Drain is a big, bitter, slam on Hollywood and its "creative" people. This is a fun novel, with a tough, nasty foe.
Brain Drain gets a brilliant
.