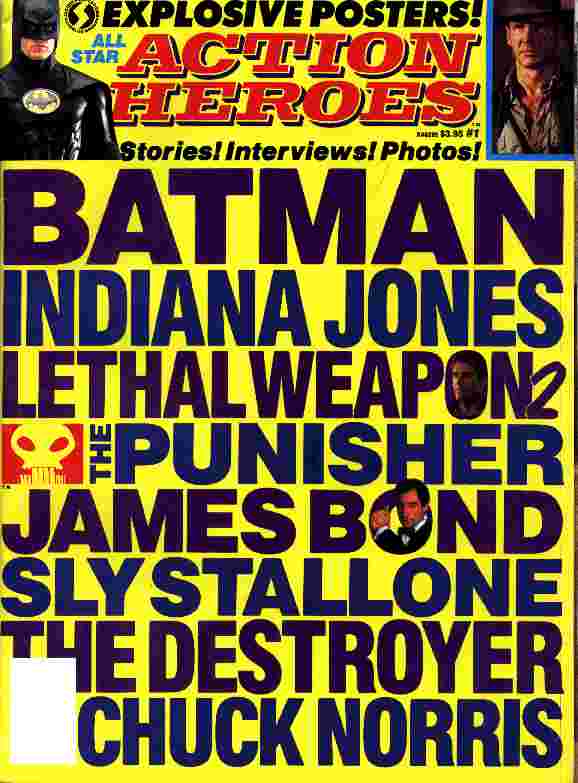 All-Star Action Heroes #1, "Terminal Philosophy"
Written by Will Murray and Warren Murphy, Artwork provided by Marvel Comics Group
Synopsis: Someone is murdering people in New York City with coins dropped from above? Meet Eldorus Broome, would-be assassin and inventor, who's making the act of murder affordable. Armed with a one-armed bandit and a pocket full of change, Eldrous is trying to improve his stock with the Pentagon by helping the Destroyer to cash in his chips early. Can Remo and Chiun stop Eldorus and his "Terminal Philosophy?"
Review: I'm fairly certain that this was the only issue of All-Star Action Heroes to ever be published. It was the creation of the Starlog Group, the same bunch who bring you Fangoria, Gorezone, and others. It's full of color shots from a dozen or so action movies which were big in the late 1980's and several full color pull-out posters.
The Destroyer story "Terminal Philosophy" is, as far as I know, the only short story ever published in this manner. It's a nice departure and worth the ten minutes it takes to read. The story was redone as a backup feature in Volume 2, #1 of the Marvel Comic series. I enjoyed it far more as a short story than I did as a comic feature, but that's probably because I don't like Steve Ditko's artwork. If you can find it, buy this issue just because it is so rare.