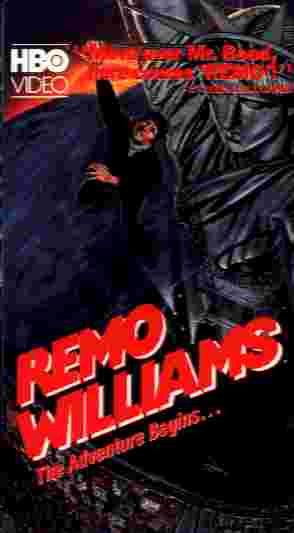 Credits
A Dick Clark/ Larry Spiegel/ Mel Bergman Production
A Guy Hamilton Film
Fred Ward, Joel Grey, Wilford Brimley
"Remo Williams, the Adventure Begins..."
Starring J.A. Preston, George Coe, Charles Cioffi, Kate Mulgrew
Editor Mark Melnick Costume Designer Ellen Mirojnick
Director of Photography Andrew Laszlo, A.S.C.
Based on "The Destroyer" series by Richard Sapir & Warren Murphy
Music Composed by Craig Safan Production Designer Jackson De Govia
Executive Producers Dick Clark/ Mel Bergman
Co-Producer Judy Goldstein Written by Christopher Wood
Produced by Larry Spielgel Directed by Guy Hamilton
Prints by Deluxe® Read the Signet Paperback
Running Time 121 minutes
©MCMLXXXV Orion Pictures Corporation.
All Rights Reserved.
Move over Mr. Bond, here comes 'REMO'!" -L.A. Herald Examiner
A cross between 'The Karate Kid' and James Bond" -The Atlanta Journal
"You're now a person who doesn't exist, working for an organization that doesn't exist." -MacCleary to Remo

Office Makin wakes up in a hospital room on the morning of his announced funeral. He has a new name, a new face, and a job offer - with a secret government organization.
Remo will be taught to walk through fire, race across sand leaving no footprints, and dodge an assassin's bullets. Remo's being - mind and body - will become the ultimate weapon, the only one which leaves no trace.
Rare Poster from the Movie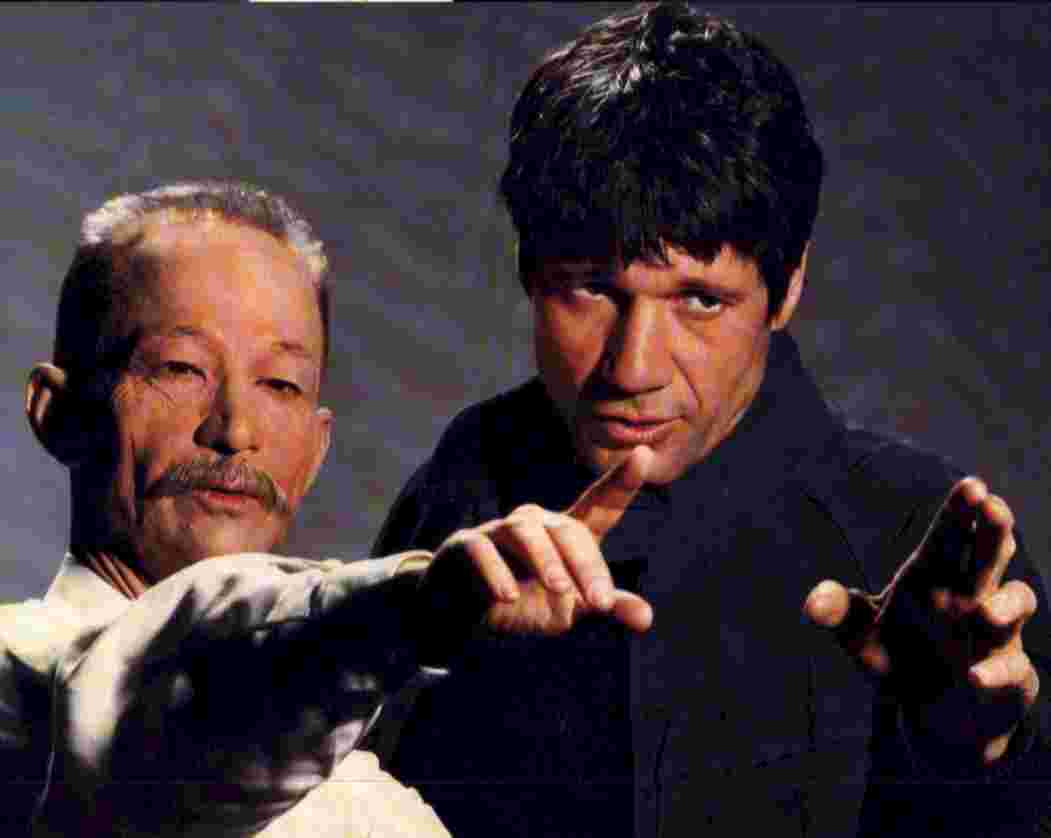 QUOTABLE QUOTES

CHIUN: What is... monoit... monosod...
REMO: Monosodium glutamate. You can't even say it.
CHIUN: I can say "rat droppings." That does not mean I would eat them.


MacCleary: Well, Chiun, what do you think?
CHIUN: He is very slow. His reflexes are PITIFUL. Poorly coordinated. He is in WRETCHED physical condition. IMPETUOUS. And clumsy. He moves like a baboon - WITH TWO CLUB FEET. However, there is a feeble glint of promise in his eyes. I think I can do something with him.


CHIUN: You move like a pregnant yak. Sit!
CHIUN: Watches are a confidence trick invented by the Swiss.
CHIUN: It would be better for you to eat this can than what is inside of it.
REMO: You know, Chiun, there are times when I really like you...
CHIUN: Of course! I am CHIUN!
REMO: ...and there are times when I could really kill you.
CHIUN: Good! We will practice that after dinner.
REMO: You know, CHIUN, sometimes you're a real pain in the ass!
CHIUN: That is because it is the shortest route to your brain.

"REMO WILLIAMS: THE ADVENTURE BEGINS"
PRODUCTION INFORMATION
(Thanks to sunnyjoe)

"You're now a person who doesn't exist, working for an organization that doesn't exist." - MacCleary to Remo

It's a strange mugging, even by New York standards. when a tough cop named Makin tries to break it up, he's attacked by both the hoods and their victim. Then a forklift truck looms out of the shadows. With a scream of metal, Makin's prowl car crumples around him, and the East River empties into his mouth.

Makin wakes up in a hospital room on the morning of his funeral. He has a new name, a new face and a job offer -- with a secret government organization.

He's been recruited, says a dapper stranger named MacCleary, to serve as the agency's enforcer, rooting out criminals so powerful and corrupt that they openly defy the justice system.

His credo will be the Eleventh Commandment, "Thou Shalt Not Get Away With It." He can, of course, turn the offer down. After all, he's already officially dead, and can be literally dead if he defers.

Remo's first assignment is simple. To enter the hideout of a dangerous killer.. make a quick hit.. .and get away undetected. But, as it turns out, the only occupant of the building is a frail, elderly Korean named Chiun, with a face like the parchment on which he practices his calligraphy.

Remo does not want to hurt the old man; he just wants to know where to find Chiun's boss. Chiun tells Remo he has no boss. It is Chiun whom Remo has been sent to kill. Remo doesn't want to hurt the elderly Korean, but when Chiun makes a move, Remo attacks. Chiun deftly eludes Remo's grasp and entices the ex-cop to slam himself from wall to wall, sapping his strength by demolishing the furniture. Even six quick shots from Remo's revolver have no effect, as the amazing Korean is able literally to dodge the bullets.

MacCleary enters the room to find his recruit in a heap on the floor.

"Well, Chiun?" he asks.
"He is slow. ..clumsy.. uncoordinated... and moves like a baboon in heat," reports the Oriental. "However, there is a feeble glint of promise in his eyes."

Remo has met his match and his mentor. Chiun is the last living master of Sinanju, the sun source of the survival arts. He will become Remo's companion, jailer, teacher, critic, father, sparring partner and friend. He will protect Remo from such abominations of western culture as the "dreaded hamburger," which poisons the system. He will teach his disciple to walk through fire, race across sand leaving no footprints, challenge heights with cat-like grace and even dodge an assassin's bullets. Under Chiun's tutelage, Remo's being -- mind and body -- will become the ultimate weapon, the only one which leaves no trace.

Chiun admits that there is little he can do about Remo's appalling sense of humor. But the crime rate is rising. One cannot expect perfection.

***


Fred Ward, Joel Grey and Wilford Brimley star in "Remo Williams: The Adventure Begins," the first film adventure drawn from the immensely popular "Destroyer" novels by Warren Murphy and Richard Sapir.
An Orion Pictures release of a Dick Clark/Larry Spiegel/Mel Bergman Production, the Guy Hamilton Film co-stars J.A. Preston, George Coe, Charles Cioffi and Kate Mulgrew.

Hamilton, whose credits include four James Bond adventures (among them the classic "Goldfinger"), directed "Remo Williams: The Adventure Begins" from a screenplay by Bond alumnus Christopher Wood ("The Spy Who Loved Me" and "Goldfinger"). Spiegel produced "Remo Williams: The Adventure Begins," Judy Goldstein was co-producer, and Dick Clark and Mel Bergman were executive producers.

The origin of "Remo Williams: The Adventure Begins" is a series of books, 62 at last count, which have attracted a cult following of more than thirty million readers -- and high praise from diverse sources. (The New York Times Book Review described ''The Destroyer" as ''a hero for the '80s."

To producer Larry Spiegel, who spent four years acquiring the screen rights and developing the property, 'The appeal of the books is the unique father-and-son relationship between Chiun and Remo. That is, if you can imagine an 80-year-old Korean philosopher whose son is a street-smart ex-New York cop.

"Remo is a very accessible guy, an everyman hero people from walks of life can relate to. Chiun, on the other hand, is like no one in the world."

That's only natural, Spiegel adds, since Chiun is "the sole surviving link" with the self-defense technique, code of conduct and way of life developed centuries ago by the mythical people of the village of Sinanju to free themselves from feudal warlords.

The chemistry between the characters, says director Guy Hamilton, was crucial in casting the roles. Fred Ward, the first of two hundred actors tested for Remo, remained Hamilton's first choice when the process was completed.

"He's a trained, sensitive actor," observes the director. "But he looks like someone you'd like to have with you in a rough neighborhood."

Ward comes by that appearance honestly. En route to his first major movie role, in Clint Eastwood's "Escape to Alcatraz," he earned his living as a club fighter, demolition worker, barrel maker, short order cook, sandhog (during construction of San Francisco's BART subway line) and fruit picker.

In a "Remo" sequence in a northwestern logging camp, Ward rides a "yarder," an aerial cable -- resembling a skeletal ski lift - - used to transport new-cut timber one thousand feet above the canyon floor. He needed no introduction to machinery. He'd also been a lumberjack in Alaska.

Despite having stayed in top physical shape, he prepared for the role by honing his former boxing skills at Gleason's Gym, New York, then continued the effort -- with trainer Pepe Martinez -- on location in Mexico.

Joel Grey's preparation, for the role of Chiun, was equally taxing if less physical.

Rising every morning at 3:30 AM, the Oscar-winning actor spent the next four-and-a-half hours in the care of make-up artist Carl Fullerton. His mane of dark hair was cropped close to his head, and dyed a sandy gray, while his skin was given the texture of rice paper.

"It's like undergoing surgery," he said later "You watch in the mirror as your face disappears.. and a new one takes its place. At first, it's unnerving."

To protect the actor's skin from irritation, the shooting schedule had one unique restriction - - Grey would never be on call more than two days in a row.

While make-up could affect a surface transformation, Grey was concerned with the nuances of the character. With the help of friends in New York's Korean-American community, he steeped himself in the art, culture, cuisine, calligraphy and history of Chiun's homeland.

The result of the effort was confirmed by a long-time acquaintance, a technician involved in editing "Remo Williams. The Adventure Begins," who encountered Grey in a studio corridor. "We haven't gotten to your part yet," he told the actor. "We're still working on the scenes with Fred Ward and that old Korean guy.

Rounding out the film's starring cast is Wilford Brimley as Harold Smith, the crusty computer wizard who runs the agency that recruited Remo.

On his instructions, MacCleary (J.A. PRESTON) presses Chiun to know when his star pupil will be ready. Fifteen years, the Korean replies, maybe fourteen-and-a-half if they cut corners. Not good enough, MacCleary confides. "The Emperor Smith," as he's known to Chiun, has a mission for Remo, starting that night.

At an Army depot, where America's advanced weaponry is tested, accidents have happened with alarming frequency. Ordinance Officer Major Rayner Fleming (KATE MULGREW) has traced the defective arms to one contractor -- the Grove Corporation. But she has been ordered not to pursue the probe. George Grove (CHARLES CIOFFI) is one of America's most respected
industrialists, a super-patriot who contributes lavishly to both worthy causes and political campaigns.

To embarrass him could offend his powerful political backers and jeopardize the H.A.R.P. project, the top-secret strategic defense system on which the nation's future security is based.

Someone has to infiltrate the Grove empire and get at the truth....

As production of "Remo Williams: The Adventure Begins" got underway, the term "power in high places" took on a new meaning.

Five weeks of filming on the streets of New York covered such locales as Greenwich Village, the Lower East Side, Wall Street and a Brooklyn wharf where Officer Makin would meet his untimely "death" and be transformed into Remo Williams.

But the most spectacular sites -- both chosen for their scenic elevation -- were the Coney Island Wonder Wheel and the Statue of Liberty.

The tallest Ferris wheel in the world, the Wonder Wheel is known for its swaying cars which give thrill seekers a sense of sliding into space. Now, it became a Sinanju exercise. While Chiun sat loftily in one of the cars, Remo dangled from the framework below, adroitly avoiding the moving machinery.

The training pays off in a later scene -- when Remo is trapped by a hit squad of steeplejacks on the scaffolding at the Statue of Liberty.

To film this sequence, the producers requested -- and happily received - - permission from the Statue of Liberty Restoration Committee to use the network of girders and walkways, surrounding the Statue, during its face-lift.

When the unit moved to Mexico, an exact, rivet-for-rivet replica of Miss Liberty -- from the torso up -- was constructed of wood and fiberglass, based on exhaustive research and original blueprints the committee provided. Rising eighty-five feet from a promontory outside Mexico City, the statue remained in place when filming was finished as an unconventional tourist attraction.

Among the locations which lured the "Remo" troupe to Mexico was the Itxal Popo Volcano National Park, fourteen-thousand feet above sea level and three-and-a-half hours from Mexico City.

Here was created the logging camp where Remo rides the "yarder," in pursuit of his quarry, a thousand feet above the timbered valley floor.

That Fred Ward took part in several such feats is a tribute to more than his physical stamina. The actor admits to a lifelong fear of heights.

"Nothing frantic, like James Stewart's phobia in 'Vertigo," he explains. "Just a rush of anxiety."

Nonetheless, he told director Hamilton that he wanted to perform as many of his own stunts as the production -- and its insurance brokers -- would allow.

"It's not a macho thing," Ward explains. "Every character you play has his own body language, as unique and personal as fingerprints. If you're capable of being in on the action, you have a professional obligation to do so.

Veteran stunt coordinator Glenn Randall, Jr., whose credits include "Raiders of the Lost Ark," "E.T." and "Never Say Never Again," puts it differently. After successive weeks during which Ward clung to a swaying beam atop the real Statue of Liberty, took an early morning dip in the East River and participated in a pier six brawl, he called the star "the most physical actor I've ever worked with.

"Stunt doubles are paid to take risks. But I never put a leading man in situations like the ones Fred was in."

Then again, he'd never worked before with a student of Sinanju.



About the Cast...

In the six years since he played his first major screen role

-- as Clint Eastwood's jailbreak partner in "Escape From Alcatraz" -- FRED WARD has created a growing gallery of hard-edged, offbeat characters.

In "Uncommon Valor," he was a Vietnam veteran whose anguish, twisted into strange and frightening works of art, drove him back to his wartime arena. In "The Right Stuff," he was astronaut Gus Grissom. In "Silkwood," he gave a memorable performance as an Indian union activist opposite Meryl Streep's victim of industrial corruption.

In "Swing Shift," he was Biscuits Toohey, the scheming dancehall proprietor who married Goldie Hawn's best friend. "Secret Admirer" cast him as a vice cop who handled his own marriage like a police raid.

"Remo Williams: The Adventure Begins," however, marks the first time Ward has been at the core of a film's action. It's, he admits, a role for which he feels a strong affinity.

"He's a blue-collar guy, a street person," says Ward, "who gets to indulge everybody's fantasy by changing his identity and life."

Ward's own life changed at the age of 21, when he decided -- for reasons he still can't fully explain -- to throw away his Air Force re-enlistment papers and try to become an actor instead. Born in San Diego and raised in Louisiana and Texas, he headed for New York and presented himself at the renowned Herbert Berghof Acting Studio.

To pay for his drama lessons, he worked first as a janitor, then as a demolition man tearing down tenements in New York's Hell's Kitchen ("It was dangerous, but at least it was out-of-doors"). After one brief film appearance (in "No Available Witness ), he headed west, working at a succession of odd -- sometimes very odd -- jobs.

Settling in San Francisco, he appeared in such experimental theatre productions as Michel de Ghilerode's "Panglaise," between stints as a construction rigger in the tunnels of the BART subway system.

When wanderlust struck again he wound up in Rome, where he made two movies for Roberto Rossellini, dubbed low-budget Italian epics into English, and studied mask and mime theatre ("a form of commedia dell'arte," he explains, "in which the challenge is to create a character despite being masked").

Returning to San Francisco, he appeared in two of Sam Shepard's famed Magic Theatre productions -- "Inacoma" and "Angel City" -- as well as revivals of "One Flew Over the Cuckoo's Nest, The Glass Menagerie" and "Find Your Way Home." Then came "Escape From Alcatraz," which led to a steady succession of rugged screen characters in "Uforia," "Carny,"
"Tilt," "Cardiac Arrest," "Time Rider" and "Southern Comfort."


Seated serenely on his crossed fingertips.. peering at the world (and his favorite television soap opera) through wise and whimsical eyes.. JOEL GREY as Chiun is more than merely the last living master of the ancient art of Sinanju.

Whether dodging bullets by bobbing his head like a Balinese dancer, manipulating the diabolic Korean 'finger board," or imparting the wisdom of the ages -- ("the trained mind does not need a clock... clocks are a Swiss confidence trick") -- he is a wizard of awe.

Capturing the character called not only for a marathon make-up session each morning but also for frequent visits to the Korean-American communities in Los Angeles and New York (where he picked out several objets d'art for Chiun's "safe house" as well as a wardrobe the character would find fashionable).

Such dedication typifies the career of the actor who won an Academy Award in 1972 as the smirking, seductively sinister master of ceremonies in "Cabaret." The same role, five years earlier, had earned him Broadway's coveted Tony.

The son of comedian Mickey Katz, Grey was born in Cleveland and made his performing debut at the age of nine, playing Pud in Saroyan's "On Borrowed Time" at the Cleveland Playhouse.

When the family moved to Los Angeles, Grey performed in his father's stage revue on weekends, and at 16 was spotted by Eddie Cantor, who presented him on television's "The Colgate Comedy Hour." By 19 he was an established song-and-dance man, appearing in New York's Copacabana and London's Palladium.

Returning to the theatre, Grey joined New York's Neighborhood Playhouse to study with Sanford Meisner and Wynn Handman. He then alternated off-Broadway appearances ("The Littlest Revue," Neil Simon's first comedy hit, "Come Blow Your Horn"), with television (title role in "Jack and the Beanstalk"), films ("About Face," "Calypso Heat Wave," "Come September") and finally Broadway.

After scoring in such memorable stage hits as "Half a Sixpence" and "Stop the World, I Want to Get Off," Grey hit the jackpot with "Cabaret," and has since returned to the stage to win three more Tony nominations via "George M," "Goodtime Charley" and "The Grand Tour." He made his directing bow in 1984, when he restaged the touring production of "Zorba the Greek," starring Anthony Quinn.

Grey's films have also included "Man on a Swing," "Buffalo Bill and the Indians" and "The Seven Percent Solution."


As Smith, WILFORD BRIMLEY is the soft-spoken, hard-nosed head of the clandestine organization which makes Remo into the Destroyer. Behind his successful front -- a seemingly respectable merchant bank -- is hidden a bank of computers which can plug into any source of processed information anywhere in the world.

Most recently seen in the 1985 hit, "Cocoon," the understated, quietly powerful actor first gained recognition in 1979, as the nervous plant foreman in "The China Syndrome."
Born in Salt Lake City, Utah, Brimley grew up in Santa Monica, California, where his father was a real estate broker. After a three-year hitch in the Marines, he married and settled down to a job shoeing horses for stables which furnished the animals for films and television.

Since westerns were riding high at the time (1965), Brimley soon found himself riding horses as an extra, then as a stuntman, and finally as an actor, with tiny roles on such television series as "Lancer," and the film "The Lawman."

This led to a semi-regular role on "The Waltons," a friendship with Ralph Waite and membership in his Los Angeles Actors Theatre, and finally to his breakthrough role in "The China Syndrome."

Since then Brimley has appeared in "The Electric Horseman," "Brubaker," "Borderline," "Absence of Malice," "High Road to China," "Tender Mercies," "The Stone Boy," "Harry and Son," "Country" and "The Natural."


When enforcer MacCleary admits that age is catching up with him, he arranges the ambush which creates his successor.

"But what," Remo asks, "if those punks had killed me?"
"Then," says MacCleary, "we'd have picked the wrong guy."

Such professional cold-bloodedness sits assuredly on the shoulders of J.A. PRESTON, who plays MacCleary.

Most recently seen as the relentless detective in Lawrence Kasdan's "Body Heat," he has also appeared in the recurring role of the well-worn Mayor Cleveland, who tangles with Captain Furillo's grubby cops in television's much-honored "Hill Street Blues."

Preston came late to his acting career. Born in Washington, D.C., he attended North Carolina Central University on an athletic scholarship (football and track), then served in Korea and came home to enter the Aeronautical Institute in Oklahoma.

It was during his subsequent 10-year stint with the Federal Aviation Authority (in air traffic assistance) that he began acting in community theatre "as a lark." It soon became more, however, and he returned to Washington, where he worked with professional touring companies.

Moving to New York, Preston auditioned for the Shakespeare Festival in the Park in 1967, and made his Broadway bow two years later with Edward Albee's "The Death of Bessie Smith."

After a stint with Jerome Robbins' experimental theatre company, an Obie for "Freeman" and a Drama Desk award for Aeschylus' "The Persians," Preston signed for the Norman Lear television series, "All's Fair." He has since appeared in "The Plutonium Incident," "High Noon, Part II" and more than 100 episodes of such series as "T.J. Hooker," "Paper Chase" and "Hart
to Hart."


As commanding officer of the arms depot -- where soldiers have been slain with their own defective weapons - - General Watson is preparing a report to the Pentagon.

Then George Grove reminds him that "Uncle Sam gave you your uniform.. but everything else you own comes from me," and the report disappears.

The weak-willed general is played by GEORGE COE, a veteran actor with a strong list of credits in theatre and television as well as films.

Most recently seen in "Micki and Maude," he has also appeared in "Kramer vs. Kramer," "Bustin' Loose," "The Entity," "The First Deadly Sin" and "The Stepford Wives," among his dozen major films.

Television audiences have seen Coe in "Hill Street Blues" and such memorable movies-of-the-week as "Kent State," "My Wicked, Wicked Ways," "Rage of Angels" and "The Country Girl." A product of the New York stage, Cee appeared on Broadway in "What Makes Sammy Run?," "Mame" "Company" and "On the Twentieth Century," and in the touring companies of "Gypsy,'' "Look Homeward Angel" and "A Majority of One."


As silky munitions magnate George Grove, CHARLES CIOFFI is completely at ease in the corridors of power that link arms and politics. While the role might seem a logical extension of his embassy smoothie who helped frustrate Jack Lemmon's search for his son in "Missing," it is light-years removed from the psychopathic killer who stalked Jane Fonda in "Klute" - - the film which marked Cioffi's screen bow.

A charter member of the Tyrone Guthrie Theatre in Minneapolis, where he performed in such classics as "The Three Sisters" and "Richard III" (title role), Cioffi continued to polish his craft at Cincinnati's Playhouse in the Park and New Haven's Long Wharf Theatre before moving on to New York.

After appearing in the Lincoln Center Repertory production of "King Lear" and "In the Matter of J. Robert Oppenheimer," he made his Broadway debut as John Hancock in the musical "1776."

His most recent stage credit is the first national company of Neil Simon's "Brighton Beach Memoirs," for which he received a Best Actor nomination from the Los Angeles Drama Critics.

Television audiences have seen Cioffi in the drama "Tail Gunner Joe," as co-star of the series "Get Christie Love," and as guest star in the series "Hawaii Five-O," "Lou Grant" and "The A-Team."

His film credits include "Shaft," "Time After Time," "Grey Lady Down," "All the Right Moves" and Bertuccelli's French-made feature, "L'Imprecateur," in which he starred.



It is KATE MULGREW, as Major Rayner Fleming, who first suspects that super-salesman George Grove is selling out his country. What she doesn't know is that the elusive stranger -- who calls himself Remo -- is the only one who can prove her right.

"Remo Williams: The Adventure Begins" marks Mulgrew's third motion picture. Previously seen opposite Richard Burton in "Love Spell" (a filmed-in-Ireland retelling of the Tristan and Isolt romance) and as Rip Torn's co-star in "A Stranger is Watching," she began her career after graduating from high school in her native Dubuque, Iowa.

While studying at New York's Stella Adler Acting Conservatory, she auditioned on the same day for the soap opera "Ryan's Hope" and the American Shakespeare Theatre production of "Our Town." When she won both roles, the jubilant young actress decided to do them both -- television by day and theatre by night.

Her running role in "Ryan's Hope" soon led to her own series, as the sleuthing wife of Peter Falk's famed gumshoe in "Mrs. Columbo." She also portrayed Mother Elizabeth Seton in the television film, "A Time For Miracles.

Among Mulgrew's forty stage credits are "Othello" at the Hartman Theatre in Stamford, Connecticut, and revivals of "Another Part of the Forest" and "Cat on a Hot Tin Roof."


About the Filmmakers...


The director of "Remo Williams: The Adventure Begins" is GUY HAMILTON, who guided James Bond through four of his most vivid exploits.

Having helped to develop the genre with the fabled "Goldfinger," he went on to direct "Diamonds Are Forever," "Live and Let Die," and "The Man With the Golden Gun."

Born in Paris to British parents, Hamilton entered films as an apprentice at a Nice studio in 1939. After World War II service with the British Navy, he worked as an assistant director on such distinguished British films as Carol Reed's "The Fallen Idol" and "The Third Man,'t and John Huston's "The
African Queen," before making his directorial debut in 1952 with "The Ringer."

His films since then include "The Intruder," "A Touch of Larceny," "Charley Moon," "Funeral in Berlin," "Battle of Britain," "Force Ten from Navarone" and Agatha Christie's "Evil Under the Sun."


Executive producer DICK CLARK is among today's most active on-camera and behind-the-scenes film and television personalities

A four-time Emmy winner, he has produced 13 television and theatrical motion pictures, hosted "American Bandstand" for 33 consecutive years, and is also host of "TV's Bloopers & Practical Jokes" (with Ed McMahon) as well as the daytime series "Tha $25,000 Pyramid" and its nighttime version, "The $100,000 Pyramid."

That's just for starters.

His Dick Clark Cinema Productions has produced such memorable TV films as "Murder in Texas" (starring Katharine Ross, Sam Elliott and Farrah Fawcett), the Emmy-winning "The Woman Who Willed a Miracle," "Elvis" (starring Kurt Russell), "Birth of the Beatles" and "The Man in the Santa Claus Suit" (starring Fred Astaire).

Clark and his organization also produce radio shows and Dick Clark's "Good Old Rock 'N' Roll" -- a touring revue which plays Las Vegas, Reno, Atlantic City and state and county fairs -- plus such television specials as the annual "American Music Awards" and "The Golden Globe Awards.'

Born in Mt. Vernon, New York, Clark began his career in radio while attending Syracuse University. Moving into television at a local Utica station, he became a news anchorman, then won a radio and TV announcing berth with Philadelphia's WFIL. There he was given his own afternoon disc jockey show, and four years later was made full-time host of WFIL-TV's "Bandstand." A year later the show was picked up by the ABC
network, renamed "American Bandstand," and with Clark as its host, became an American institution.


The moment he was introduced to "The Destroyer" stories, producer LARRY SPIEGEL knew he had found a "movie hero whose time had come.

With two decades of filmmaking experience to call on, he spent the next four years acquiring, developing, financing and realizing the project.

Born and raised in Brooklyn, New York, Spiegel graduated from the University of Ohio's School of Journalism, then joined CBS Television as a production assistant. By the age of 23, he had written and directed a critically acclaimed network special on classical music.

Moving into television commercials, he produced many memorable commercials for Wells, Rich, Greene and BBDO -- then returned to writing. His pilot script for "The ABC Afterschool Specials" launched that award-winning series, for which he wrote and produced subsequent episodes.

Spiegel turned to screenwriting with the political satire "Hail" (featured at the Cannes Film Festival), then focused on 1930s rackets with "Book of Numbers" before writing of murder and mayhem in "Survival Run," which he also directed. He then produced John Huston's "Phobia," followed by "Death Game" and "Stunts."


Executive producer MEL BERGMAN, a native of Philadelphia, has been involved in the financing of motion pictures for the past fifteen years. He is a partner with Larry Spiegel in Appledown Films and has served as an executive producer on a number of motion pictures.


Continuing her nine-year association with producer Larry Spiegel, co-producer JUDY GOLDSTEIN is one of a rising number of women in creative executive positions in the film industry.

A graduate of the University of California at Irvine (with a major in dance), the Washington-born, California-reared filmmaker began her career by moving to New York for several years of experience with off-Broadway theatre.

After working her way up from the stage manager to producer, she moved into films with Robert Stigwood Productions, and came up through the ranks, serving in various capacities.

Goldstein most recently served as associate producer on "Survival Run" and John Huston's "Phobia."


The screenplay of "Remo Williams: The Adventure Begins" was written by CHRISTOPHER WOOD, whose work invariably combines action with wit, as evidenced by his two James Bond screenplays (adapted from Ian Fleming's famous thrillers) -- "The Spy Who Loved Me" and "Moonraker."

Born and raised in London, Wood is also a published novelist, with over 50 books in print. His most recent -- "Dove Against Death" -- will be filmed by producer Larry Speigel, from Wood's own screenplay.



"Remo Williams: The Adventure Begins" is an Orion Pictures
release of a Dick Clark/Larry Spiegel/Mel Bergman Production
starring Fred Ward, Joel Grey and Wilford Brimley.

J.A. Preston, George Coe, Charles Cioffi and Kate Muigrew
co-star in the Guy Hamilton film, directed by Hamilton from a
screenplay by Christopher Wood, based on the "Destroyer" novels
by Warren Murphy and Richard Sapir.

"Remo Williams: The Adventure Begins" was produced by
Spiegel; Judy Goldstein was co-producer. Clark and Bergman were
executive producers.