Target of Opportunity
by Will Murray
His name was Remo and he stifled a yawn as the agent at the Mavis Car Rental counter tried to assure him that yes, while the city of Furioso, Florida, is as safe as can be, prudent tourists took precations before driving into the city.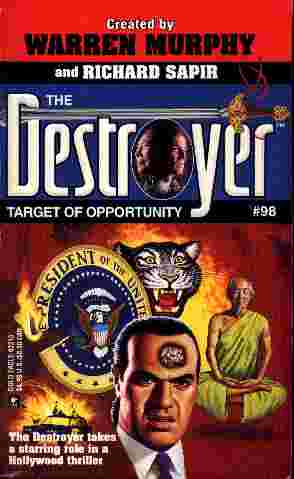 Free Agent
Remo is set to teach a few lessons in hospitality at Florida's top tourist attraction, but his mind is made up. He is a free agent. No more CURE, no more trying to solve America's problems.
But the nation goes into a state of shock when a Lee Harvey Oswald look-alike is nailed trying to shoot the President, and Remo can't ignore the call of duty--and a sense of déjà vu. Soon, a meddling television anchorwoman and strange transformations at the White House leave him feeling that he has landed a role in a bizarre Hollywood thriller.
With the direct line to the President still dead, and Chiun trying to give away the secret of CURE, Remo and Smith are hard-pressed to protect the Man who threatened to shut down CURE for good....

Review: This one'll make your brain ache! Try to figure out who's behind this conspiracy before the last chapter, I dare you! I enjoyed this novel quite a bit, especially the way Will sets up little 2-3 book story arcs which help pull the individual novels together to give them more of a unified feel. The fall out from the last novel which destroyed CURE's database is felt in this novel.
Take the shot! Target of Opportunity gets
.