The Empire Dreams
by James Mullaney
His name was Remo, and he like nuns.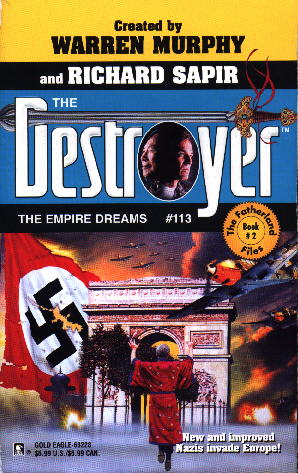 A Thousand-Year Nightmare
A vacationing Harold Smith finds himself in the middle of a war zone when World War II planes bomb London and Nazi-attired skinheads goose-step through the streets.
To complete the weird déjà vu, the guy responsible is a ragin Nazi, part of a secret brotherhood with a high-tech agenda for recapturing the dream of a certain evil visionary.
But this rogue Nazi devised a new blueprint for world domination that sets him on a path of violence in pursuit of the glorious dream.
Just in time. Now Remo has a little something to keep his mind off all the troubles in the world: saving it.

Review: Great stuff here! The plot was clever, the dialog sharp, and the action flows! We get to learn a bit more about Harold Smith's pre-CURE days and his relationship with his long-suffering wife Maude. I think I'm going to like Jim's work even more than Will Murray's. I hope he decides to bring back some of the old staple villains soon. A visit from the Dutchman or Mr. Gordons would be welcome after all these Nazis.
The Empire Dreams is terrific!
.