Coin of the Realm
by Will Murray
His name was Remo and he was collecting heads.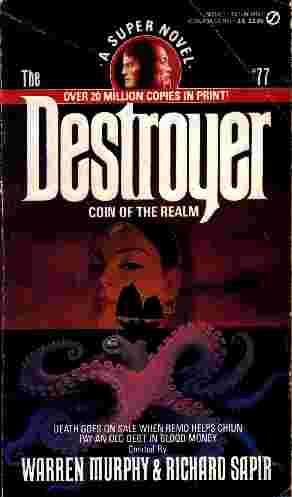 Moo wasn't exactly your
typical island paradise
Its fat-cat master made his subjects slaves to his freed. Its beautiful princess was motivated by lust--for money or whatever. Its people were far deeper into digging their ruler's grave than his mines. And its only tourists were a dollar-demented psychic charlatan named Shane Billiken and a crew of money-mad murderers from the back pages of Soldier of Fortune.
In short, Moo was a bubbling caldron of every cardinal sin...and Remo and Chiun had to sweat blood to keep the lid on...as Chiun ran into an evil with too many tentacles even for him...and Remo found how dangerous a royal female could be when it came to attacking his principles--or whatever....

Review: The quality of the banter between Remo and Chiun reaches an all-time height in this novel, as does Chiun's craftiness. Almost all of the subplots are great; the egg-lemon soup, "pooning," and the octopus worshippers. The only one that I didn't like was Shane Billiken and the Roy Orbison-thing. Maybe it's because I never really liked Orbison's music....
Coin of the Realm is worth every cent
½.