The Final Crusade
by Will Murray
His name was Remo and he wasn't going to jump.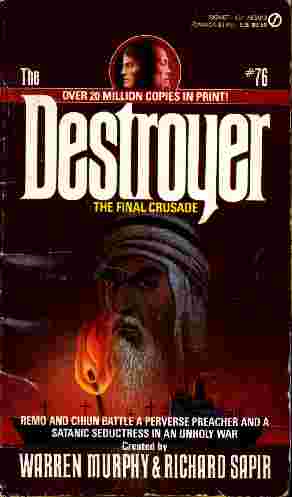 The Destroyer was
born again--and was as
helpless as a baby
Eldon Sluggard, the TV evangelist whose god was greed, had converted Remo to his renegade religion and enlisted him in his unholy war of conquest.
Victoria Hoar, the curvaceous creature who made the minister her puppet by pulling his sexual strings, was out to turn Remo into a plaything of perpetual pleasure.
The Destroyer was in the hands of this terrifying twosome body and soul, and unless his Oriental mentor Chiun could loosen their diabolic hold, Remo was going to hell in a handbasket--and taking the world with him....

Review: I think we really need more evil preachers as villains, don't you? Well, we're really not breaking any new ground with this one. Remo having a crisis of faith was pretty interesting, as was Chiun explaining the Sinanju system of beliefs. I liked the confrontation with the Ayatollah, during Chiun's glorious return to Persia. That said, nothing else in the book was especially good.
I pray that future books are better than The Final Crusade
½.