Look Into My Eyes
by Richard Sapir
His name was Remo and he couldn't count the number of men he'd killed, nor did he want to start.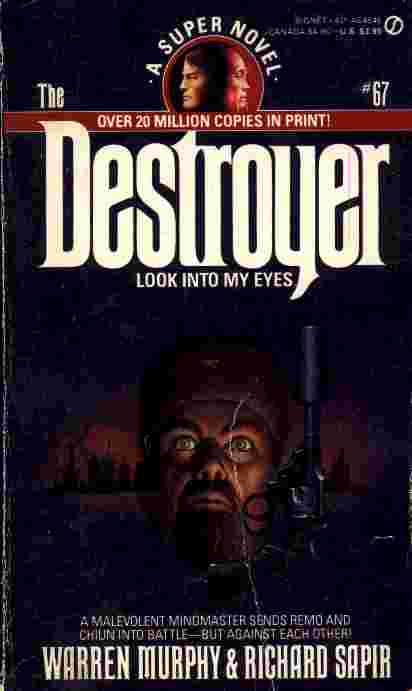 The Destroyer Facing Destruction
Beautiful and brainy Russian operative Anna Chutesov had very little use for men--whether they were her Soviet superiors or her American adversaries.
But then again, she had never met a man like Remo. She had already found out what he could do in the sphere of sex.
Now she watched as he handled the two guards who wanted to take her back to Russia. Remo lifted his arms. Unfortunately he had two throats in his hands as he did so.
"That was amazing," Anna said. "I never even saw your hands move."
"What are you happy about? Now I've got to face the man who taught me," said Remo. "No one's better than him."
Remo and Chiun were on a collision course--and the world could end not with a bang but with their crash....

Review: A top-notch book. There's not a lot new here, Remo and Chiun have been pitted against one another before, but this time it seems a whole lot more serious. A master hypnotist has Chiun dancing to his tune, like a puppet on a string and he's set him against Remo!
Anna is a wonderful character! She would have been a good substitute for Ruby.
Cool book, lots of fun!
½.