The Head Men
by Richard Sapir and Warren Murphy
His name was Remo and he was exercising.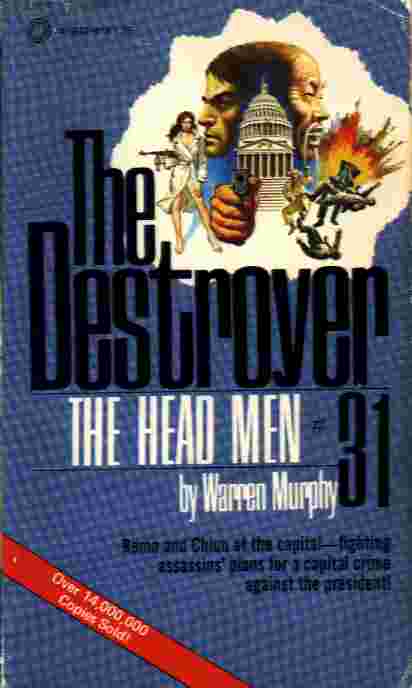 Washington Menu
When an honored and respected business executive is blown up into liver pâté as a warning to the president, will the head man become the main course?
The president thinks he's safe. With the White House electronic devices, the secret service, and the most elaborate security system that money can buy, he is--isn't he?
The opinion of the men from CURE, Remo and Chiun: The president is "Dead meat."
With assassins lurking behind every corner and the secret service servicing their own secrets only Remo and Chiun stand between the killers getting their just desserts and a young president become a grisly leftover...ready to be swept into a plastic bag.

Review: The Head Men strikes me as odd now, since the cover says it was written only by Warren Murphy. Is this the first solo novel in the series? Does anyone know why Sapir wasn't involved? This is a cool book, the plot to kill the president is eerie, because it sounds like it would work. This novel has held up to the test of time and still as much fun as when it was written nearly two decades ago.
I'd give this one
.